📣🔗Improvements Live Share
We are excited to announce that we have made Live Share even more convenient for you with a range of new features:
Shares are now categorized by status: active, planned, and passed.
Two tabs, "My Shares" and "Company Shares," provide convenient sharing options.
The addition of the "End Share" button allows for easy termination of live shares, moving them to the "passed" category for display.
Additionally, you can now email a link to your Live Share directly from within our application. Just by clicking the Send email button.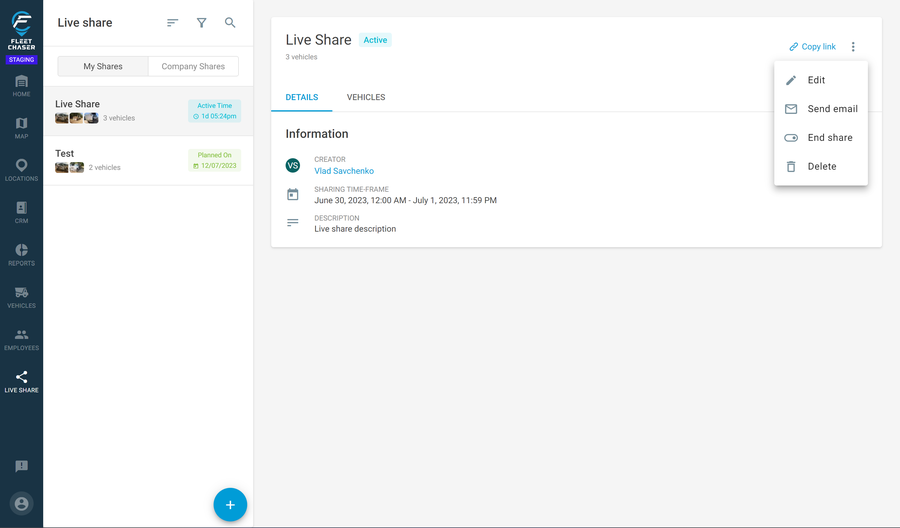 If you have any questions or need assistance, please don't hesitate to contact our support team.

🔧 Bug Fixes and Improvements ⭐
Map/List with Vehicles - Fixed issue where group icons were not displayed in the "All vehicles" drop-down list.
Location - Fixed issue where scaling a location replaced the chosen location type with the default type, ensuring that the selected location type remains unchanged after scaling, improving accuracy and consistency in managing location types.
Vehicles/Maintance/Set new alert - Fixed issue where the "Add" button was inactive when creating custom maintenance based on duration, now allowing users to successfully add maintenance tasks with an active button.