🎉🔧 New section "Engine Light"
A major update to our Engine Light section. With this update, users will now have the ability to see diagnostic trouble codes on the graph, providing a more detailed view of any errors detected in their vehicle.
In addition, the Engine Light section has been expanded to include three parts:

Engine Light: Displays whether any error is lit, providing a quick and easy way to check the status of your vehicle.
Diagnostic Trouble Codes: A graph with error codes and how the error was displayed, allowing for a more in-depth analysis of any issues.
Code History: A section that shows the history of errors, providing a comprehensive record of all previous issues and their resolution.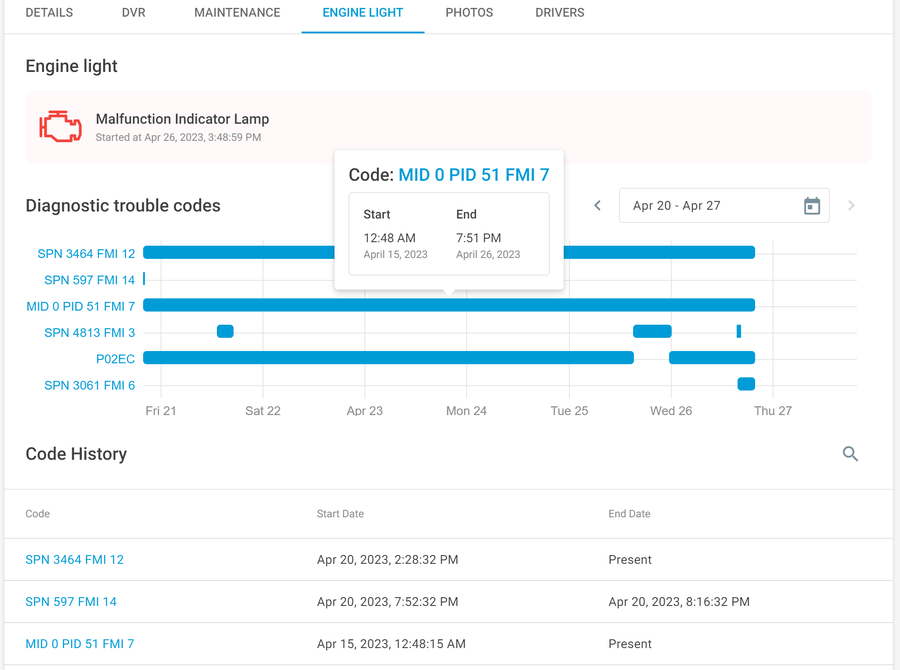 We hope these updates will provide a more robust and user-friendly experience for our customers.

🤝 New level of support for our customers!

We've improved our customer support system by introducing a new live chat feature. This fast and efficient communication channel will enable you to receive real-time responses from our expert support team.

Our revamped customer support now includes:
📱🗪Live Chat
📞Phone
📧 Email

We are committed to providing you with the best possible support experience, and we believe that this new addition will help us achieve that goal. Please don't hesitate to reach out to us through any of these channels if you have any questions or concerns. We are always here to help!
🔧 Bug Fixes and Improvements ⭐
Fixed an issue with our Vehicles section. Previously, users were unable to change or add a camera to a vehicle. With this fix, users can now successfully change a camera that is already assigned to a vehicle, or add a new camera to a vehicle as needed.
We have fixed an issue where the No Access notification was displayed when the camera was off in the Vehicles section. With this update, the Camera off notification will now be displayed when the camera is off as expected.
Fixed an issue where the created location was displayed with a blue color instead of the selected location type color. Now, the created location will display the correct color based on the selected location type.
We've resolved an issue where the Reports/Vehicle work hours page was not displaying all information correctly. With this update, the information for selected vehicle groups will be displayed correctly on the page as expected.
We have updated our vehicle markers on the MAP page, designed to improve visibility and make it easier to locate vehicles. The markers have been optimized and are now more clearly visible on the map. Additionally, they have several states, including Travel, IDLE, Stop, and Towed. With these changes, users can more easily track the location and status of their fleet in real time.